HVAC Unit Cleaning
Back To Our Services
To ensure that your HVAC unit reaches its maximum potential and works both effectively and efficiently, it is important to carry out regular cleaning and maintenance. Rest assured that our local team uses expert people and pet-friendly solvents to get the job done to the highest standards. Ensure that the air you and your loved ones breathe is fresh, clean and more importantly, safe.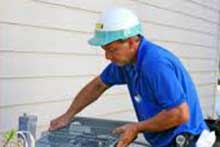 The Benefits Of HVAC Unit Cleaning
Your home's air quality, along with its energy efficiency, can greatly benefit from regular HVAC unit cleaning. Your indoor air quality can be improved by replacing filters, cleaning the grills, coils, condenser, and more. In doing this, you're improving the quality of the air your family is breathing, along with your system's competence and effectiveness. In addition to this, you are reducing its day-to-day wear and tear, and helping it to achieve and maintain an optimum temperature inside your home or premises.
The Importance Of Air Quality Testing
Our team is experienced in testing the air quality inside your home. These air quality tests are extremely thorough and efficient at identifying all types of pollutants. They also measure the number of particles circulating throughout your property. As soon as the test is successfully completed, a local Beverly Hills technician will evaluate the results, and after further discussion will carry out any work that is necessary, making sure that your home is clean and fresh. Opting for this measure could save you from a lot of health hazards that have unclean air as a starting point, such as allergies, colds, flues and lethargies. In short, air quality testing means maintaining and ensuring a healthy and safe lifestyle.
Contact The Professionals Today
For regular maintenance and all your HVAC unit cleaning needs, get in touch with our local team at Air Duct Cleaning Beverly Hills. Our dedicated professionals will ensure that the air inside your home is fresh and safe. You and your family will be able to breathe a lot easier while resting assured that all needs have been successfully handled by a fully trained technician.